Tips To Decorate Your Home On a Budget
I realise not everybody has as much patience to devote to decorating and furnishing their home. And I'm not proposing you spend your weekends scrounging around in rubbish heaps for unique home accents. (Please, that would mean fewer treasures for me.)
But there are a few tricks and shortcuts I've learned along the way that make it easy to save a buck or $200. And not a single one requires a tetanus shot.
Don't be afraid of prints
If you want to make an otherwise bland room come to life, just add prints. The bright green floral couch in my living room (which I affectionately refer to as "nana chic") serves as the anchor for the space, and the wallpaper in my dressing room turns a drab wall into a happy garden. Plus, the pattern is so bold that I needed to cover only one wall, thus saving money. Just be sure to go easy on other patterns so as not to overwhelm the eye.
Think big
If you have a large, blank wall to fill, don't immediately think gallery wall, which is a strategically arranged collection of art pieces that can cost a fortune to frame. Instead opt for a large anchor piece, such as a giant map or a handmade installation. For my living room, I searched "DIY backdrop" for inspiration and found instructions on how to make a huge tassel hanging.
Know what to buy vs DIY
Whenever I see an item described as "industrial" or as made with "reclaimed" materials, my DIY senses tingle. Additionally, the plumbing section at your local hardware store is brimming with potential storage solutions. I built the clothing racks in my dressing room using copper piping and concrete, and I've made a simple, versatile blanket ladder using dowel and copper fittings. And if you find an affordable set of drawers but hate the knobs, you're just a few twists away from a sleek piece if you update the hardware.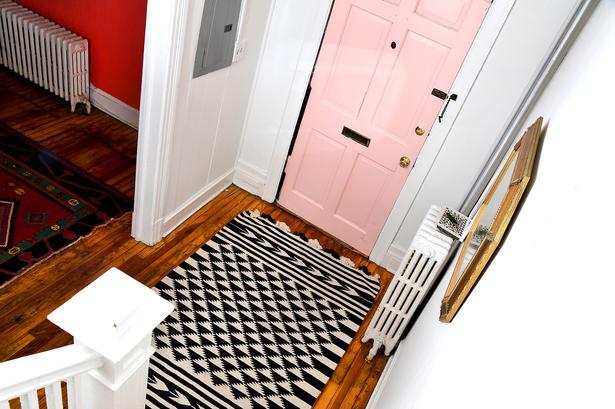 The author painted the foyer door millennial pink and added a gold-framed octagonal mirror and patterned rug. Picture / Katherine Frey, Washington Post.
Paint often and paint everything
A can of paint is the single most inexpensive way to change the look of your home. Don't be afraid to go big here. I wasn't, and I'm thrilled with my bright blue living room (inspired by Frida Kahlo and Diego Rivera's house in Mexico City) and coral dining room (inspired by a Santorini sunset). And consider painting your cabinets and doors. I couldn't resist coating the door in my foyer with millennial pink, and the results are whimsical.
Buy textiles when you travel
The fastest way to add colour and richness to a room is by adding textiles. It also happens to be one of the most expensive. Throw blankets, table linens and rugs often demand a high price because they've been imported and are grossly marked up. But when traveling through foreign countries, you can find the same items at markets for a fraction of the price. Take the massive white rug in my living room that I snagged in Mexico City for $40. Or the hand-embroidered blanket draped across my bed that I picked up in Burma for $55. Not only were they affordable and rare, but they also tell a story.
Host a tchotchke swap
One woman's trash is another woman's new wall adornment or pop of colour. Similar to a clothing swap or a book swap, a tchotchke swap is a way for you to exchange items you no longer need for something fresh. It's how I picked up a crystal chandelier (really!) for nothing.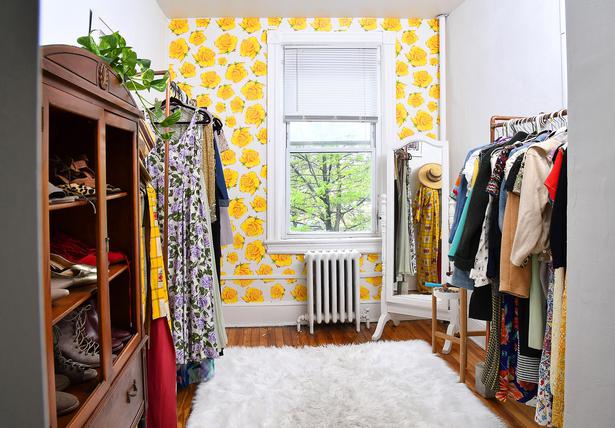 Clothing can look beautiful displayed in the open, on clothing racks. Picture / Katherine Frey, Washington Post.
Make your existing belongings do the work
Books, clothing and dinnerware are common items in every apartment. They can also look beautiful when displayed in the open rather than being stored in a cabinet or cupboard. Be sure to choose your items wisely: Think floor-length floral frocks hung on a clothing rack instead of a row of white tees.
Add some plants
Don't let a fear of killing greenery stop you from adding life to your home. There are a number of foolproof houseplants that cost next to nothing and will last a long time. Succulents and orchids might be in vogue, but both are fickle and require specific conditions to thrive.
Go to estate sales
This is the best way to shop for furniture for a number of reasons: The prices are unbeatable. In fact, many of the second-hand shops you love get their stock this way (and then charge you three times what they paid.)